A Recipe for Nan Bread from the Crew
This report was submitted by Alexandre Mangeot – Crew Commander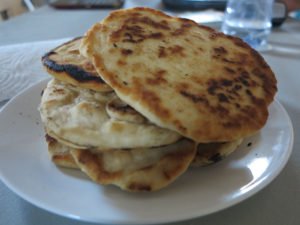 Food Report for 2nd of October 2016.
Almost Nan bread: (for 6 breads)
–    5/2 cup of all purpose flour.
–    250 ml of water
–    pinch of salt
Step 1: Mix everything in a mix bowl.
Step 2: X the dough until it is homogeneous.
Step 3: Separate the dough into six (6) equal portions.
Step 4: Heat a non adhesive-pan with medium low heat and flour a flat surface.
If you do not have a non adhesive-pan you can use oil in the pan.
Step 5: Take one portion of dough and flatten it on the flour surface until the desire size is reach.
Thickness of the flat dough should be between 5 millimeter and a centimeter.
Step 6: Put the flatten dough in the pan for thirty seconds.
Step 7: Turn the dough and let it cook for two minutes.
Step 8: Repeat step 5 to 7 until the mix bowl is empty.