Recipe for Cheese & Potatoes Quiche
Food Report for of November 2016.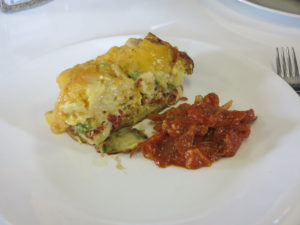 Cheese & Potatoes Quiche: (for Very hungry Martian with enough appetite to eat every single layers)
Ingredients:
Eggs
Dehydrated slice potatoes
Dehydrated Cheese
Dehydrated Peas
Dehydrated tomatoes
Dehydrated Onions
Note: I didn't add any quantity so read carefully all the instruction and adjust quantity by the size of you pan. The ingredients are in order of which you will need to most
Preparation of the Dish
Step PotD – 1: Start soaking all the vegetables and potatoes and cheese, in three different soaking bowl.
Step PotD – 2: Butter a (or use an non adhesive) pan.
Step PotD – 3: preheat the oven at 450F.
First Layer
Step 1L – 1: Cover the bottom of the pan with hydrated slice potatoes.
Second Layer
Step 2L – 1: In a mixing bowl, mixed all you onions, peas and tomatoes.
Step 2L – 2: Add the egg mix with the correct amount of water to make scramble eggs and then mix the inside of the mixing bowl.
Step 2L – 3: Cover the potatoes layer with the mix
Third Layer
Step 3L – 1: Cover the vegetables with eggs layer with slices potatoes
Forth Layer
Step 4L – 1: In the same mixing bowl use for the second layer( that should be empty) add eggs and cheese with enough water to make scramble eggs.
Step 4L – 2: Cover the second potatoes layer with the mixture.
Cooking the Quiche
Step CtQ – 1: Put the pan in the over for around 90 minutes. Make sure the all the layers are cooked by putting a knife inside and see if it come wet or dry.
This was another successful dish made by Yusuke, that was made in very large quantity. The flavors mixed really well together and it was a real delight.
As always please try this at home. Very little supervision is require, and to eat. Please enjoy.