Recipe for Energetic Halwa Breakfast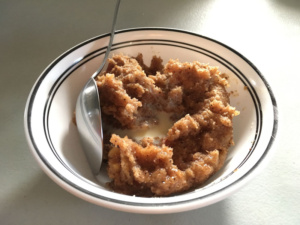 Food Report for of October 2016.
Energetic Halwa Breakfast: (for 7 persons going on EVA and in need of energy)
Ingredients:
1 cup of Wheat flour / person
half a cup of Sugar / person
1 cup of water / person
Some Dried fruits
Note: You can add more or less sugar, and also feel free to add as many dried fruits.
Step 1: Add some butter ghee in a frying pan. And heat on medium low.
Step 2: Once the butter is heated add the wheat flour.
Step 3: Stir until all the flour turn brown.
Step 4: Add the water, the dried fruits and the sugar.
Step 5: Boil the mixture until it is cooked and uniform.
Step 6: Serve hot.
"
Be careful we don't recommend eating this every morning, but once in a while it is awesome. When in need of quick energy for the morning until lunch.